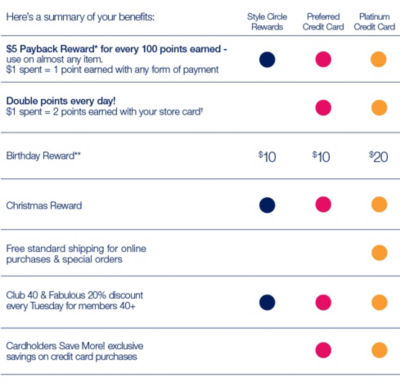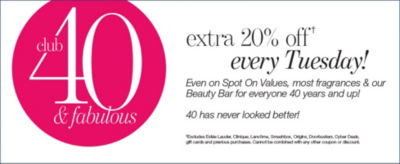 Frequently Asked Questions
What is Style Circle Rewards?
Style Circle Rewards is our loyalty program, available to all customers. It's free, easy to join, offers tons of perks and lots of ways to save money, like a $5 Payback Reward for every 100 points earned ‐ plus, cardholders get double points every day!
What are the benefits of joining Style Circle Rewards?
Earn a $5 Payback Reward for every 100 points earned ‐ use on almost any item in store or online, even on Spot On Values, cosmetics and fragrances!
Exclusive rewards and members‐only savings offers throughout the year.
Club 40 & Fabulous discounts for members 40+
Access to our Style Circle Community, an online forum where customers learn about style trends, fashion tips and more.
Do you have to be a Store Credit Card holder to join Style Circle Rewards?
No. You don't have to be a cardholder to enroll in Style Circle Rewards ‐ anyone can join. However, we encourage customers to apply for our Store Credit Card so you can enjoy all the perks of Style Circle Rewards and even more benefits (refer to chart above). Plus, cardholders are automatically enrolled in Style Circle Rewards.
Can I earn and redeem Rewards at any other store in the Stage family of stores?
Yes, you can earn and redeem rewards on purchases at any of our over 790 stores nationwide ‐ Bealls, Goody's, Palais Royal, Peebles, Stage, plus online at stage.com!
Do I get a Style Circle Rewards membership card?
No, you will not have to keep track of a loyalty card. Simply enter your phone number each time you shop to earn rewards.
What if I forget my phone number?
We can look up your account without the phone number so you can continue to earn rewards or you can contact our Call Center
at 1-800-743-8730.
Are Payback Rewards stackable?
Yes. They can be combined with other coupons in store and online.
How will I receive my Rewards?
Rewards will be printed instantly on your receipt at the register ‐ you will no longer have to wait for your rewards at the top of your billing statement. If your reward was earned on a stage.com purchase, your reward will be sent via email when your order is fulfilled.
How do I check or manage my Reward status?
View rewards and manage your account by signing in online at stylecirclerewards.com ‐ simply click "log in" to start. Once you are signed in,
click 'Rewards' to view reward balances and rewards earned.
*The Style Circle Rewards program is provided by Specialty Retailers, Inc. and may change at any time. Payback Rewards are redeemable toward future online or in-store purchases. No merchandise exclusions except on gift card purchases or credit card payments. Not valid at Gordmans stores. For terms and conditions click here or visit stylecirclerewards.com
†Subject to credit approval.
**Must have made a purchase within the last 24 months to receive this offer. Account opened in your birthday month or in the previous month will receive the birthday offer the following calendar year if eligible.