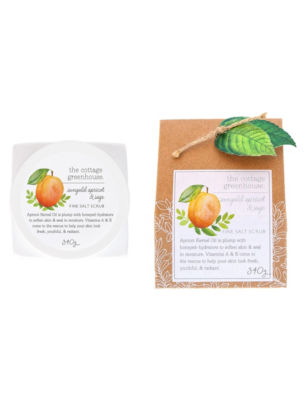 The Cottage Greenhouse Sungold Apricot & Sage Fine Salt Scrub
Description
Apricot kernel oil is plump with honeyed-hydrators to soften skin and seal in moisture. Vitamins A and E come to the rescue to help your skin look fresh, youthful, and radiant. 12.0-oz.

Mother Nature knows best! Our stimulating spa-to-go scrub has never been sweeter! Hydroscopic honey (fancy word simply means honey attracts and holds moisture!) helps soften and soothe your skin while nutrient-rich blueberry oil wages war against the aging effects of environmental stress. Our luscious formula finishes with smoothing cocoa butter and golden apricot kernel oil to replenish moisture. Small granule sea salt combined with the polishing power of passion fruit seeds slough away sluggish surface cells to reveal your super smooth skin for a happy, radiant glow.

Key ingredients: apricot kernel oil, blueberry oil, cocoa butter, honey and passion fruit seeds.
Share: