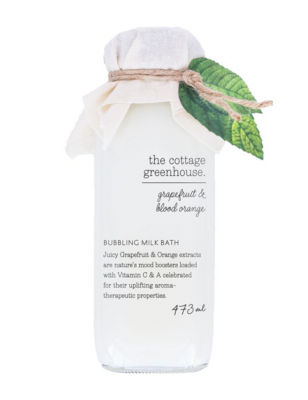 The Cottage Greenhouse Grapefruit & Blood Orange Bubbling Milk Bath
$25.60
SALE
reg.

$32.00
20% OFF
Description
Juicy grapefruit and orange extracts are nature's mood boosters loaded with vitamin C and B5, celebrated for their uplifting aromatherapeutic properties. Mother Nature knows best, take the plunge! Creamy clouds of fresh and frothy bubbles leave your body clean and happy. The Cottage Green House's bubbling milk bath's top secret recipe combines a splash of amazing almond oil to naturally nourish, a scoop of luscious coconut oil to help hydrate, and a dollop of skin soothing milk & honey to nurture delicate skin. Supremely softening as you relax and restore. 16-oz.
Instructions for enjoymentadd to freshly drawn warm water. Allow bubbling milk bath time to bubble up and infuse soothing properties throughout bath water. Submerge whole body into tub. Prepare to be transported into pools of relaxation! Grapefruit and orange extracts, coconut oil, milk, honey and almond oil.
Paraben free. Gluten free. Never animal tested.
Share: