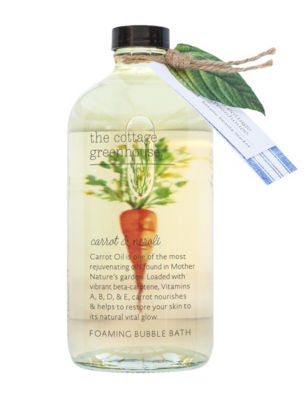 The Cottage Greenhouse Carrot & Neroli Foaming Bubble Bath
Description
Carrot oil is one of the most rejuvenating oils found in mother nature's garden. Loaded with vibrant beta-carotene, Vitamins A, B, D, and E, carrot nourishes and helps to restore your skin to its natural vital glow. 16.0-oz.

Mother Nature knows best! Super soft skin is just a soak away! Light, foaming bubbles fill your tub. Your skin is rewarded as rich avocado oil, smoothing macadamia and almond oil condition and replenish your skin to the softness nature intended. Our specially formulated bubble bath is gentle to all skin types while maintaining long lasting bubbles for a relaxing retreat that can't be beat.
Made withcarrot oil, avocado oil, macadamia oil and almond oil.

Paraben free. Gluten free. Never animal tested. Vegan.
Share: