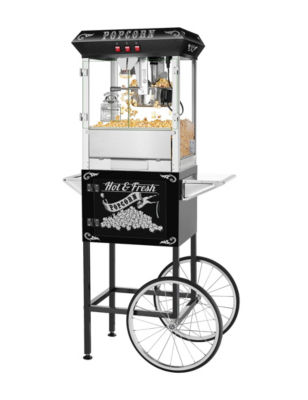 Superior Popcorn Hot & Fresh Cart Style Popcorn Popper
$269.98
Spot on Value!
+ Delivery Surcharge: $95.00
Description
This commercial quality popcorn popper from Superior Popcorn features stainless steel food-zones, easy cleaning stainless steel kettles, heated warming decks, old maid drawers, tempered glass panels and an industry leading eight-ounce kettle operating on 860-watts.

Includes 3 plastic serving cups, 50 popcorn bags, measuring cups and popcorn scoop
Toggle switch controls include: spot light warmer, stirrer and pot heater
Makes 3-gal. of popcorn per batch
Designed with small perforations in the bottom to allow un-popped kernels to fall into drawer
"Rake" the popped corn with a scoop and the "old maids" disappear
Integrated storage cabinet in base
Can be used on cart or on table top
860-WATT output
Powder coated steel / stainless / steel
Imported
Dimensions: 61.75" x 21" x 29"
Share: