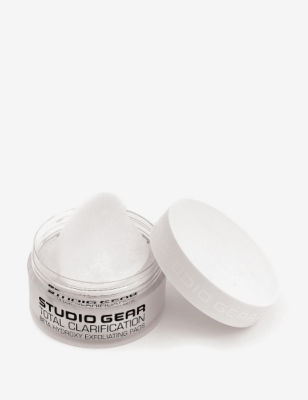 Studio Gear Total Clarification Exfoliating Pads
$8.49
SALE
orig.

$35.00
76% OFF
Description
Total Clarification Exfoliating Pads help to gently and effectively eliminate complexion-dulling dead surface skin cells, revealing clearer, brighter, more radiant looking skin. With continued use, these clarifying pads can help improve the appearance of photo-aged skin, clear up and help reduce the recurrence of blackheads and blemishes, refine pore size and reduce the appearance of fine lines and wrinkles.
Key Benefits:
Beta Hydroxy Acid: A gentle exfoliant capable of pore penetration to decongest the skin.
Sodium Hyaluronate (Hyaluronic Acid): Capable of binding 1,800 times its own weight in water, making it one of the most effective anti-wrinkle moisturizers.
Aloe: Decreases skin irritation and inflammation as it accelerates the healing process.
Green Tea: Antioxidant, anti-carcinogenic, and anti-inflammatory properties.
Witch Hazel: Strong antioxidant and anti-inflammatory antiseptic that helps tighten and clarify pores.
Share: