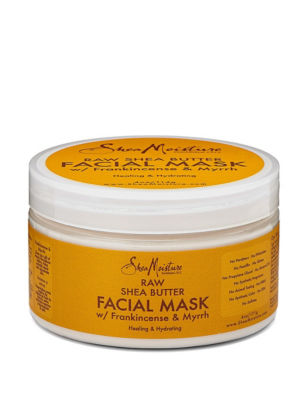 Shea Moisture Raw Shea Butter Facial Mask
Description
A healing facial mask for dry, chapped skin, Shea Moisture's Raw Shea Butter Facial Mask gently clarifies skin while intensely hydrating and promoting moisture rebalancing. Made with a unique blend of organic raw shea butter and mineral-rich clays with frankincense and myrhh extracts, it boosts skin's rejuvenation and imparts radiance to dry or aging skin. 4-oz.


Made with 100% certified organic raw shea butter, this face mask heals, hydrates and moisturizes dry skin. The high vitamin a content of raw shea butter helps fight a plethora of skin conditions like dermatitis, eczema, wrinkles and blemishes, while also being effective against skin allergies. The added frankincense and myrhh extracts further help prevent signs of aging and soothe cracked, chapped and dry skin. Now give your face a brilliant glow with this facial mask that has an easy-to-apply creamy formula. Be rest assured; Shea Moisture's Raw Shea Butter Facial Mask will give your skin the little boost it needs to look soft, supple and youthfully refreshed day after day!


Apply to clean dry skin once a week as needed, avoiding the eye area. Allow to set 5 or 10 minutes then rinse with cool water. Pat skin dry to prior to applying moisturizer.
Share: