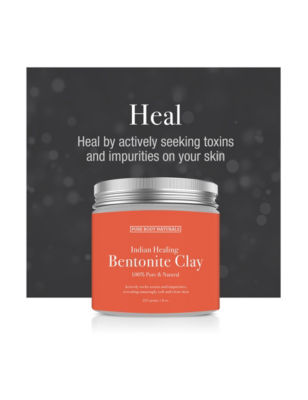 Pure Body Naturals Heal Bentonite Clay
Description
Actively seeks toxins and impurities, revealing amazingly soft and clear skin. 8.0-oz.
Bentonite clay's negatively charged molecules uniquely bind with positively charged toxins, bacteria and other impurities on the skin. You'll feel pulling and tightening of your skin, which is the bentonite clay mask binding with toxins and generating healthy blood circulation.
Pure Body Naturals sodium bentonite clay draws more toxins and impurities than calcium bentonite clay.
Use a non-metal bowl and utensils for mixing.
Mix 3 parts water or apple cider vinegar to 1 part clay powder, and mix into a smooth paste.
Add more clay powder or water as needed.
Massage the mask gently onto your skin, and let dry for 15-20 minutes.
Wash with warm water.
Add 4 tablespoons of bentonite clay powder to your next bath for a natural, detoxifying bath soak that will leave your skin smooth and hydrated.
Recommended for external use only.
Share: