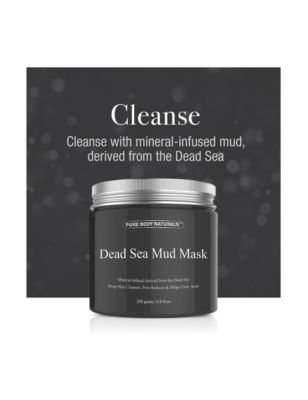 Pure Body Naturals Cleanse Dead Sea Mud Mask
$11.99
SALE
reg.

$15.00
20% OFF
Description
The Dead Sea Mud Mask is a deep cleansing and pore reducing formula containing mineral-infused mud derived from the dead sea. 8.8-oz.
Helps fight acne, blackheads and pimples while helping to fade acne scars
Removes dead skin cells, dirt and toxins naturally from skin
Helps unclog pores and draw out impurities from the skin
Stimulates blood circulation and increases blood flow at the skin level to help even skin tone, reduce the appearance of cellulite, and overall improve skin's health
Uniquely mineral rich, including potassium, bromide, calcium and magnesium
Deep skin cleanser
Pore reducer
Added shea butter for more natural hydration
Apply a thin layer to the face, avoiding the eyes and lips.
Leave mask on for 10-15 minutes until partly or completely dry.
Soak a washcloth in warm water, and lay over your face to soften the mask.
Once the mask is softened, rinse your face gently with warm water.
Share: