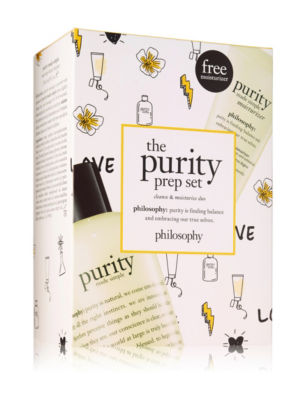 Philosophy 2-pc. The Purity Prep Set Cleanse & Moisturize Duo
Description
First signs of aging, dry skin, dullness, anti-aging, these loved and lauded skin-care formulas will have you set to glow in seconds. America's # 1 cleanser melts away makeup, dirt and oil in one simple step, leaving skin impeccably clean and comfortably balanced. Follow with breakthrough bestselling moisturizer for smoothed, glowing, lit-from-within skin that feels as beautiful as it looks.

Set includes:

8-oz. Purity Made Simple Facial Wash
0.5-oz. Purity Made Simple Moisturizer
Benefits:
Cleanser: removes makeup, dirt and oil; leaves skin clean and comfortably balances
Moisturizer: smoothes skin; makes skin glow from within
How to Use:
Apply small amount of cleanser to slightly damp face
Massage for 30-60 seconds
Rinse thoroughly and pat dry
Apply Purity Moisturizer to clean, dry skin
Use in a.m. and p.m.
Skin Type:
Share: