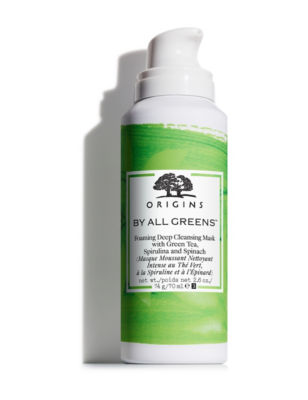 Origins By All Greens Foaming Deep Cleansing Mask with Green Tea, Spirulina and Spinach
Description
A self-foaming, deep-cleansing clay mask. 2.6-oz.
Two-in-one mask and cleanser detoxifies to draw out dirt, debris, pollutants, and makeup from skin and pores
Inspired by detox juicing cleanses, the foaming formula features green superfoods, including green tea, spirulina, and spinach
Gently cleanses without stripping or drying skin
Use three times per week.
TREAT: Dispense into hand. Without blending, apply even layer immediately to skin. If you experience sensitivity, apply to damp skin. Relax for a few minutes and let the foam develop. Once foam fully develops, you are ready for the next step.
CLEANSE: Once product texture transforms on skin, wet fingers and massage in circular motion to reactivate foam. Rinse well. Avoid eye area.
Paraben-free
Sulfate- free
Oil- free
Share: