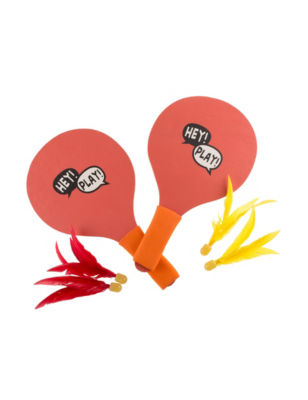 Hey! Play! 6-pc. Wooden Paddle & Birdies Set
Description
The wooden paddles and birdies is a fun and easy-to-play racquet game for players of all ages. The paddles have easy-to-grip foam handles, which make it ideal for even the smallest or oldest of players.

Set includes two wooden paddles with easy-to-grip foam handles and 4 birdies, 2 red and 2 yellow
Can be used indoor or outdoor
Play with or without a net, and as far away as you choose
Can be played all seasons of the year, even on rainy days
Wooden paddles are even versatile enough to use on other foam balls
Wood / foam
Spot clean
Imported
Dimensions: Paddle: 7.25" x 13"; Birdies: 5"
Share: