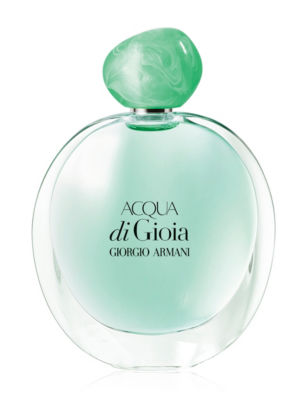 Giorgio Armani Acqua di Gioia Eau de Parfum for Women
$72.00 - $92.00
$43.00 - $92.00
Description
This March, your purchase of any Acqua di Gioia or Acqua di Giò fragrance will help UNICEF provide a child with safe, clean water for one year.* Thank you for making a difference!
For 10 years, UNICEF USA and Giorgio Armani Fragrances have been working together to provide children with access to safe, clean water.
*Giorgio Armani Fragrances will donate $5 to UNICEF USA in support of UNICEF WASH Programs for each Acqua di Giò, Acqua di Giò Profumo, Acqua di Giò Absolu and Acqua, Air, Sun or Sky di Gioia Eau de Toilette or Eau de Parfum, purchased in the United States through authorized distributors from March 1, 2019, to March 31, 2019, with a minimum donation of $500,000 from all Acqua for Life promotions. UNICEF USA does not endorse any brand, product, company, or service. No portion of the purchase price is tax-deductible. For more information visit unicefusa.org
Inspiration derived directly from the island of Pantelleria, off the coast of Italy, a destination described as anything but ordinary. Deep blue-green Mediterranean sea reflecting off the sun's rays evoking a sense of pure bliss, tranquility, and certainness. Aqua di Gio meaning "water of joy" is the epitome of happiness that can be experienced in such an extraordinary destination.
The fragrance's top notes rise like a soft sea breeze, bringing forward a sensual blend of cool mint, warm brown sugar, and the zest of Italian lemon. Next, the heart notes emerge with beautiful floral hints of jasmine, dew of peony, and traces of pink pepper. The base lingers on a uniquely Mediterranean trail of cedar wood and the complex, herbaceous accords of labdanum.
Notes: mint, brown sugar, lemon, jasmine, peony, pink pepper, cedar wood, labdanum
Style: Joyous. Aquatic.
Share: