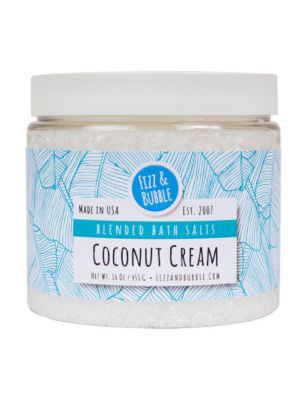 Fizz & Bubble Coconut Cream Blended Bath Salts
Description
Made up of a powerful blend of exfoliating ingredients, our Coconut Cream Bath Salts are a coconut-creamy treat! A dollop of these salts in your tub releases new and fun sensations through the roof, transforming your normal bathtime routine into a glorious, dreamy escape!

Benefitscontains a blend of exfoliating salts, including dendritic, white crystalline solar, dead sea and epsom! Relax in a sweet, natural fragrance while your skin turns soft, supple and ready for the day!

Safe and natural. Free of animal ingredients and unnecessary chemicals. Made with natural and biodegradable ingredients. Eco-friendly. Not tested on animals. Child-safe.
Easy to use! Fill your tub halfway and pour about eight ounces into the water, stir, and allow the salts to flourish in the bath and hydrate your skin!
Share: