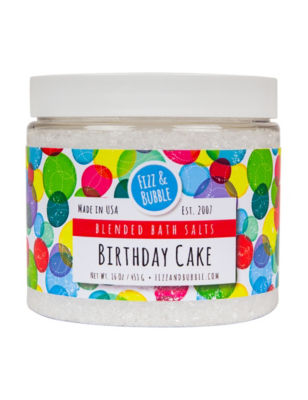 Fizz & Bubble Birthday Cake Blended Bath Salts
Description
Embrace the soft aroma of rich, creamy vanilla and flavorful sugar, softening your skin and alleviating muscle tension. You'll be glad to celebrate with this fun bevy of exfoliating bath salts. Our Birthday Cake Bath Salts are an exfoliative and moisturizing addition to your routine and adds a ton of fun to your bath.

Benefits: Contains a blend of exfoliating salts, including dendritic, white crystalline solar, dead sea and epsom! Relax in a sweet, natural fragrance while your skin turns soft, supple and ready for the day!
Safe & natural: Free of animal ingredients and unnecessary chemicals. Made with natural and biodegradable ingredients. Eco-friendly. Not tested on animals. Child-safe.
Easy to use! Fill your tub halfway and pour about eight ounces into the water, stir, and allow the salts to flourish in the bath and hydrate your skin!
Share: