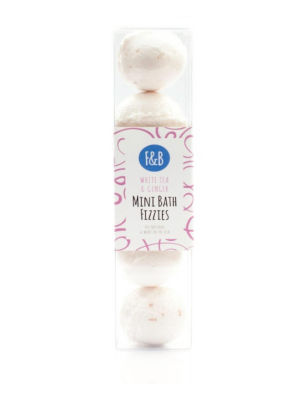 Fizz & Bubble 5-pk. White Tea & Ginger Mini Bath Bomb Fizzies
Description
At 40mm in diameter, these cute little ping-pong ball sized bath bomb fizzies each weigh about 1.3 ounces, and feature epsom salts, vitamin E, and mica clay for coloring that is stain-free. Shrink wrapped for freshness and beautifully presented in a plastic sleeve. All "fizzy" products feature Fizz & Bubbles signature ultra-moisturizing 8-Oil blend that includes a carefully blended fusion of Aloe Vera, Coconut, Grapeseed, Sweet Almond, Olive, Avocado, Sunflower, and Jojoba.
How to use:
Fill your bathtub with water (any temperature will do), drop in 1,2,3,4 or even all 5 - just be prepared to be ridiculously soft! Then, simply drift away while your skin is moisturized and your senses soothed.
Free of animal ingredients and unnecessary chemicals. Made with natural biodegradable ingredients. Eco-friendly. Not tested on animals.
Share: