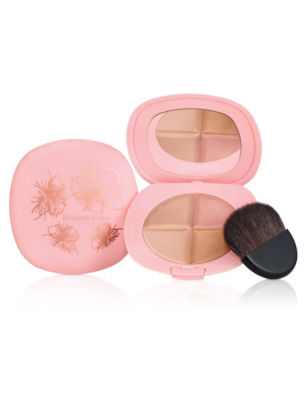 Elizabeth Arden FourEver Glow Highlight Powder
Description
Reveal your inner glow. This four-in-one highlighter infused with iridescent pearls illuminates skin for a naturally radiant look.
Use shades separately to enhance and sculpt features or swirl together for an all over glow. The unique four quad palette captures and illuminates the sun as it hits your skin. Iridescent, reflective pearls create a natural highlight and perfectly radiant complexion. Use each shade separately or swirl together for an optimal glow.
Suggested usage:
Contour: start by using the deepest shade along the hollows of your cheekbones, hairline and jaw line. You can apply very lightly or build for a more defined contour.
Highlight: to accentuate each feature, highlight cheekbones, bridge of the nose, center of eyelids, cupid's bow and clavicle.
Enhance: finish with a swirl of blush to the apples of the cheek or, if you prefer a more golden look, use the bronzer.
Share: