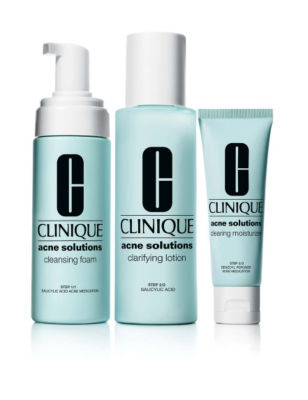 Clinique Acne Solutions 3 Step System
Description
Start to see visible results in days with the Acne Solutions Clear Skin System Starter Kit. In two weeks, you're guaranteed to see smoother, clearer skin. Midday shine will be pretty much history. Those supersized pores? Less noticeable. Convenient kit contains a supply of all three steps: cleanse, exfoliate, moisturize.

Set Includes:
Acne Solutions Cleansing Foam 1.7 fl. oz./50 ml
Acne Solutions Clarifying Lotion 3.4 fl. oz./100 ml
Acne Solutions Clearing Moisturizer 1.0 fl. oz / 30ml
How To Use
Step 1: Cleanse with Acne Solutions Cleansing Foam
Step 2: Exfoliate with Acne Solutions Clarifying Lotion
Step 3: Moisturize with Acne Solutions Clearing Moisturizer Oil-Free
What To Expect
Use the Acne Solutions Clear Skin System twice a day, every day, and you're guaranteed to see clearer skin.
From day one:
Shine and flakiness are cleared away. Skin looks and feels cleaner, smoother.
After one week:
Skin looks clearer, calmer, less oily. Less red, too. Makeup's going on smoother, staying fresher, longer.
After two weeks:
You're guaranteed to see smoother, clearer skin. Midday shine is diminished, pores less noticeable.
After six weeks:
Breakouts become less frequent—and less severe. The longer you use the Clear Skin System, the better skin gets.
Allergy Tested
100% Fragrance Free
Share: