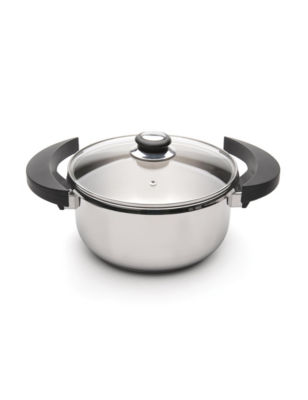 Berghoff 5-pc. Eclipse Pressure Cooker Set
Description
This pressure cooker not only speeds up cooking time but preserves vitamins and minerals while locking in all flavors and aromas. Lid-lock seals lid when pressure rises and valve safety systems offers extra safety.
Includes 6.3-qt. pressure cooker, 3.1-qt pressure cooker, 8" steam basket and 2 lids
Comes with steam basket and exchangeable lids
Speed up cooking time while retaining flavor, vitamins, and minerals
Features lid-lock that seals while in use
Safety valves to let off excess pressure
Hand wash
Stainless steel
Imported
Dimensions: 12.2" x 13.5" x 10.6"
Share: