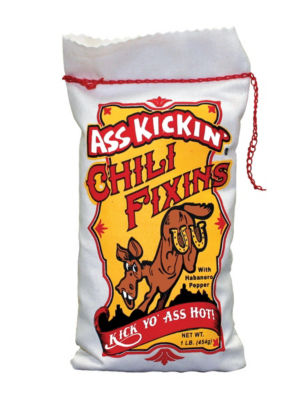 Ass Kickin' Chili Fixins'
Description
Ass Kickin' chili fixins' makes a full gallon of chili! Each bag contains pinto and black beans, all of the spices to make the chili as well as a separate packet of masa flour (to thicken the chili) and a separate packet of habanero pepper.

1-lb. chili fixings, including beans and spices
Cook the beans first - then add your ingredients
You can control the heat level with the separate pack of habanero pepper
Ingredients needed: meat, onion, diced tomatoes and garlic
Made in the U.S.A.
Share: