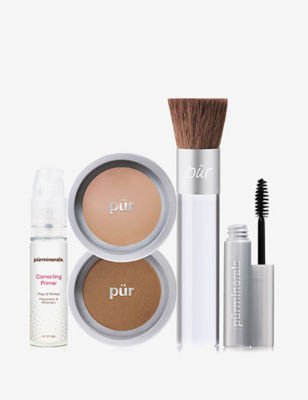 Zoom
Pur 5-Piece Beauty-to-Go Collection
Description
Lots of makeup can make you look pretty, but how many can improve clarity or diminish the look of fine lines? More than just a get-the-look kit, Start Now! is an expressway to a naturally flawless complexion. In an eight-week clinical study, women of all ages saw an improvement in their skin's appearance after using this five-piece kit. Up to 89 percent saw a smoother, softer appearance while 75 percent experienced visibly less irritation than before.
This portable perfection makeup kit includes:
4-in-1 Pressed Mineral Makeup (.15 oz): Loose powders are so last year. Combining pure mineral pigment with the finest skin care ingredients, our all-in-one foundation, concealer, powder and SPF 15 has inspired generations of women to forget the mess and go pressed.
Neutral Primer (.3 fl oz): While most primers create the illusion of a more uniform complexion, our skin correcting formula contains special key ingredients that minimize the look of pores, dark spots and fine lines for a truly flawless makeup canvas.
Mineral Glow (.12 oz): Combining premium quality minerals with proven firming ingredients, Mineral Glow gives skin a natural-looking touch of sun with added skin care benefits.
Impact+ Mascara (.12 oz): Lengthen, thicken or curl—most mascaras give you just one option. Impact+ gives you all three, with the added benefit of extreme lash hydration for naturally healthier looking lashes.
Chisel Brush: Designed specifically for our 4-in-1 formula, this cruelty-free total coverage brush delivers an effortlessly even application every time. Also works with Pür specialty powders.
Step 1: Smooth Neutral Primer onto clean, moisturized skin and allow to dry.
Step 2: Using the Chisel Brush, apply 4-in-1 Pressed Mineral Makeup in circular motions to achieve an even and flawless finish. Layer as needed for desired coverage.
Step 3: Using a powder brush or the Chisel Brush, sweep Mineral Glow over your face and neck for a healthy glow.
Step 4: Complete the look with Impact+ Mascara. Comb wand through upper and lower lashes with slow, delicate, repeated strokes.
Share: